Against the Klan: A Newspaper Publisher in South Louisiana During the 1960s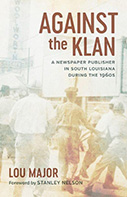 Author: Lou Major
Publisher: Louisiana State University Press, 2021. 188 pages.
Reviewer: P. Brooks Fuller ǀ March 2022
Some historians estimate that at the height of its political prominence in the 1920s, the Ku Klux Klan's active, registered membership numbered between 3 and 8 million Americans. As a share of the total United States population, Klan membership at its zenith was as much as 30 times the size of the modern Libertarian Party. After a dormant period, the Ku Klux Klan experienced an immense, if not secretive, resurgence as the American Civil Rights Movement materialized. Lou Major's memoir, Against the Klan: a newspaper publisher in South Louisiana during the 1960s, recounts his leadership of the Bogalusa Daily News during a fraught period of racial tension in Bogalusa, Louisiana, a hotbed of Klan activity during the Klan's third wave.
Klan violence had one core aim in the 1960s: to obstruct economic and social mobility for Black Americans by stemming the groundswell of support for comprehensive civil rights legislation. The Klan's public tactics leveraged fear. Klansmen marched in the streets and waged racist propaganda campaigns against the Black leaders and white allies involved in the movement across the American South. They bombed churches and burned crosses.
Among those targeted by hooded vigilantes were Southern newspapermen such as Julian LaRose Harris, Hodding Carter II, and Horace Carter (no relation to Hodding), who used their news organizations' resources to expose the Klan's influence in Southern politics and civic life. Lou Major, who spent thirty of his sixty years in local journalism as publisher of the Bogalusa Daily News, was a key figure in the conflict between the free press and the Klan as the Civil Rights Act of 1964 and the Voting Rights Act of 1965 progressed through Congress. His memoir reconstructs this consequential period in American history by presenting some of Major's boldest editorials alongside his recollection of his motivations for taking the positions he did, and the consequences that unfolded. It situates Major in the pantheon of Southern editors who fought back against the Klan, sometimes (and reluctantly) with bullets of their own.
Against the Klan reminds readers that although history never repeats itself, it has an undeniable tendency to rhyme. If readers squint, they will see the rough outlines of a battle for the soul of local journalism that still rages in 2021. Major's prose is deliberate and direct, but it is an important meditation on the crises of misinformation, editorial independence, and objectivity that still face newsroom leaders in an asymmetrically polarized political climate. Despite the relative health of local journalism in the 1960s, before leveraged buyouts and consolidation were reporter vernacular, Major struggled to protect the Daily News's reputation against far-Right extremists' efforts to delegitimize the local press.
The Klan's misinformation campaign against Major and the Bogalusa Daily News may have been analog, but it was neither quaint nor subtle. A local Klan group circulated its Midnight Mail newsletter to Bogalusa homes, accusing the Daily News of shilling for Communist-sympathizing factions of the political Left. This was false, of course. Major's editorials at the time and his memoir today make clear that he was skeptical of the prominent left-leaning activists that marched in Bogalusa during the Civil Rights Movement. But that did not stop the Daily News from expending considerable time and resources to weather the storm of Klan propaganda. He decided early on to never mention the Midnight Mail by name in the Daily News for fear of amplifying its message and lending it legitimacy. This should sound familiar. In many ways, Lou Major's retelling of this misinformation crisis presaged the far-Right misinformation tactics that Republican strategist Steve Bannon once referred to as "flood[ing] the zone with shit." Major's memoir is even-tempered, but it reflects serious concern over the Klan's unceasing efforts to undermine his and his paper's commitment to basic journalistic principles.
Despite his boldness, Major did not lead the Daily News as a partisan crusade. Nor did he fully detach the paper from conflicts across the political spectrum. While he denounced the Klan frequently, Major also heaped criticism on national civil rights groups such as the Congress of Racial Equity (CORE), whose network of activists traveled to Bogalusa to organize boycotts and picket lines. In an August 1964 editorial ostensibly warning of orchestrated Klan violence, Major warned readers, "[t]here has been much justified criticism of Negro agitators who go looking for racial incidents, seeking to trigger violence so that they can persuade the Negro population as a whole that counter-violence is the only means to gain the end they seek. The Klan seems to be choosing the same route…." Two days earlier, Klansmen had burned a cross in Major's yard. After being tipped off that Major's home would be targeted, he hid in the backseat of his car on the night of the cross burning with a .38 caliber pistol and fired several shots at the getaway vehicle. Read alongside these events, the curated selection of editorials in Against the Klan should permanently dispel any notion that Lou Major saw objectivity as a conflict-avoidance strategy.
One shortcoming of Against the Klan is that it often reads as if Lou Major is observing Bogalusa during the Civil Rights Movement at cruising altitude. Major's narrative is not quite aloof, but (typical of men of his generation) it is stoic when it could be deeply emotional. The book is at its best, however, when Major ruminates on his own place in the political structure.
For example, the opening chapter speeds from 1951-1963, pausing briefly as Major defends his decision to merge editions of the Daily News, which had been segregated into different runs for white and Black subscribers. It's an interesting but cursory account of something remarkable. Major simply treats it as the right thing to do. The deep meditation comes in the following chapter as Major puts that editorial decision in context alongside social and political change occurring in Louisiana and Washington. In late 1963, the Major family left the First Presbyterian Church of Bogalusa, a faith community they had known for more than a decade, over its decision to deny Black parishioners a space for worship. In January 1964, a day before the House of Representatives voted to pass the Civil Rights Act of 1964, an anonymous Bogalusa resident convinced a newspaper carrier to deliver a racist handbill with each copy of the Daily News. Major wrote a fiery editorial denouncing the offenses of "racial filth" and "dirty politics."
What binds these events, and much of the book, is that they demonstrate Major's deeply personal investment in the image and role of the Daily News. For Major, the friction in his church family and the hijacking of his paper foretold a looming crisis at home. They were part of soft backlash to progress in D.C. that would precede the burning crosses and hate mail that forced him into public battles with the Klan and other political actors. For example, during a July 1964 boycott in Bogalusa, Major helped organize a "racial news blackout" among local media outlets to limit inflammatory coverage on conflict in the street. Just as when he editorialized against the Klan, Major was no neutral observer. He was clearly mindful of the local press's power in the political structure. And he used that power accordingly to rein in political tensions as he could.
The afterword, written by his son, Lou Major, Jr., grapples with the long-time publisher's complicated relationship with politics and power. Major, Jr. recalls his father's private contrition about the Daily News's treatment of CORE and its leader, James Farmer. Major, Sr. labeled Farmer a "militant" and an "agitator," two terms that time and critical study have taught readers to decode for racialized subtext. Early in life, Major, Sr. urged activists to engage "good faith" negotiation instead of the "pressure tactics" of marches and demonstrations. In hindsight, he confessed to failing to appreciate the necessity and utility of Black coalitions in the South, including those formed by so-called "outsiders," to advance the interests of vulnerable locals, Black and white alike.
Given the political and social constraints, Major's editorial decisions were undoubtedly courageous, and his memoir is a sobering reminder of the human costs of good local journalism. But Major's editorial courage then should not be mistaken for what amounts to editorial courage now. Much of Major's work appears motivated by his desire to protect his community's shared ethic of responsibility against relentless attack. Readers should come away from this memoir with a better sense of how journalism strengthens communities. But Major also wished for a return to the pre-1960s social status quo, and readers should consider whether the journalistic norms that guided Major's work during that time are suited to the crises facing journalism today.
Contemporary journalists battle racist misinformation just as Lou Major did in the 1960s, except today those anti-democratic forces operate at a staggering scale. They are highly funded, distributed and algorithmic. And they have led to horrific violence against journalists covering protests and ordinary citizens engaging in them. Journalists must be just as fearless as Lou Major in their defense of journalistic principles. But journalists should be twice as critical of how taken for granted principles obscure malignancy in the political system and impede our collective reckoning with racial violence.
Brooks Fuller, Director of the North Carolina Open Government Coalition and Assistant Professor of Journalism, Elon University