Bourbon Justice: How Whiskey Law Shaped America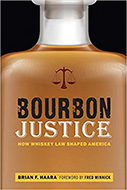 Author: Brian F. Haara
Publisher: Lincoln, NE.: Potomac Books, 2018. 182p.
Reviewer: Mark W. Podvia | July 2019
Bourbon is a type of American whiskey (or whisky) made primarily from corn. While all Bourbon is whiskey, not all whiskey is Bourbon. To be marketed as Bourbon, a whiskey must meet very specific Federal legal requirements, including that it be made from a mixture of grain that is at least 51 per cent corn and aged in new charred oak containers.
Bourbon Justice: How Whiskey Law Shaped America by Brian F. Haara, tells the story of the development of what the United States Congress has described as a "distinctive American beverage" and of the laws regulating that beverage. These range from trademark laws to taxation to laws governing consumer protection. The regulation of the production of Bourbon even lead to some of America's earliest environmental laws. The history of Bourbon and the history of America are intertwined.
When one thinks of Bourbon, one inevitably thinks of the Commonwealth of Kentucky. Yet there is no law requiring that Bourbon be made in Kentucky unless "Kentucky" appears in the Bourbon's name. If that is the case, the Bourbon must have been produced in Kentucky using grains that were cooked, fermented and distilled in Kentucky. However, pursuant to several international agreements, Bourbon must be produced in the United States even though the companies producing Bourbon need not be American.  As examples, Wild Turkey is a Bourbon produced by an Italian company, Davide Campari Milano S.p.A., while Four Roses is a Bourbon owned by Kirin Company, Ltd., a Japanese company.
The book identifies and explains other terms that arise in context to Bourbon. The use of the term "small batch," for example, is pure marketing—sometimes called puffery. Other terms of puffery include "pure," "craft" and "handmade."  The use of exaggerated advertising statements did not originate in the Bourbon industry, yet Bourbon producers have often engaged in puffery, and courts have had to determine when such statement crossed the line into false advertising. However, other terms, such as the word "proof," do have a specific legal meaning. Under law, Bourbon must be bottled at a minimum of 80 proof. There is, however, no maximum proof for Bourbon.
The term "brand name" comes from the Bourbon industry. Federal law dating to early 1800s required that the name of the distiller be branded—that is stamped or burned— on every barrel of Bourbon placed in a bonded warehouse. The use of that term later spread to other industries.
As family members opened competing distilleries, the question of using one's own surname in their business became an issue. It was decided that one could use one's own name unless it would create market confusion. As an example, Elijah Pepper and his son Oscar operated one of the most celebrated distilleries in Kentucky. Following Oscar Pepper's death in in 1865, his son James lost the distillery in bankruptcy. He later started another distillery at a different location and sought to use his father's name. The court ruled that he could not use the name "Old Oscar Pepper Distillery" since he no longer owned his father's distillery, and that distillery was still in operation under a different owner.
However, it was another Bourbon case—John P. Dant Distillery Co. v. Schenely Distillers, Inc.—that created an exception to that rule. Two branches of the Dant family had both used the family name for over forty years without conflict. When one branch tried to claim an exclusive right to the Dant name, the court ruled that where family members had operated competing companies without trying to restrict the other, one could not later claim an exclusive right to the name.
Laws governing the Bourbon industry took the lead in consumer protection. This was before laws were adopted requiring pure foods and drugs. In the late 1800s certain distillers were lacing their product with additives, some of which were hazardous to human health. This lead to the adoption of the Bottled-in-Bond Act of 1897 which protected consumers from such additives. The act prohibited "any mingling of different products" with Bottled-in-Bond whiskey.
Lawsuits involving the waste slop that Bourbon distilleries dumped into steams, making the water foul-smelling and undrinkable, lead to a 1904 ruling by the Kentucky Court of Appeals that mandated protection of stream quality. In Peacock Distillery v. Commonwealth, 25 Ky. L. Rptr. 1778, 78 S.W. 893, the Court ruled that the landowner must "conduct his business with regard to certain rights of his neighbors." It was among the earliest rulings protecting water quality and the environment. Previously landowners could use their land largely as they saw fit.
The Eighteenth Amendment was ratified on January 16, 1919, and took effect on January 16, 1920. The Amendment prohibited "the manufacture, sale, or transportation of intoxicating liquors within, the importation thereof into, or the exportation thereof from the United States and all territory subject to the jurisdiction thereof for beverage purposes." However, in some places local option laws had actually prohibited the sale of Bourbon and other intoxicating beverages decades earlier.
National Prohibition severely crippled the Bourbon industry, but did not destroy it. While many distilleries closed their doors forever, the Volstead Act, which provided for enforcement of the Amendment, allowed six distillers to remain open producing whiskey for "medicinal" purposes. There was reportedly a dramatic increase in illness during Prohibition; a patient could be proscribed a pint of "medicinal" whiskey every ten days for illnesses that ranged from indigestion and depression to cancer. Many people continued to enjoy Bourbon despite the prohibition of alcohol.
National Prohibition ended on December 5, 1933, under the Twenty-First Amendment. However, the end of National Prohibition did not mean an end to government laws and regulations. Instead a three-tiered system was put in place. Manufacturers distill and package Bourbon and other alcoholic beverages and ship their products to wholesalers. The wholesalers then sell the products to retailers. The retailers, in turn, then sell Bourbon and other alcoholic products to the public. The product is regulated at each level.
The book includes numerous "Tasting Notes," descriptions and reviews of various Bourbons. These range from inexpensive Bourbons such as Old Crow Kentucky Straight Bourbon Whiskey, costing approximately $10.00 per bottle, to Willett Family Estate Single Barrel Kentucky Straight Bourbon Whiskey, costing as much as $350.00 per bottle. We learn that the former "has aromas reminiscent of countryside barns with pronounced corn grain or even silage, followed by flavors of caramel corn; bright sugary candy sweetness; and a touch of citrus" while the later has "aromas of polished wood, leather, dark chocolate, and plums and flavors of Tootsie Rolls, lush caramel, and buttery coffee, with a solid backbone of oak, mahogany and leather."
Bourbon Justice also includes "Beyond Bourbon" notes. These notes look at the legal issues that had originally arisen in the Bourbon industry, but that later occurred in other commercial cases. Issues discussed in these notes include puffery, trademarks, use of family names, warrantless searches, and imitation. Cases involving such corporations as Gallo Wines, Pizza Hut, Victoria's Secret, Skechers and In-N-Out Burger are all discussed.
Profusely illustrated, this book is eminently readable. The writing is never dull; the chapters have a logical flow. One need not be a lawyer to understand either the legal language used in the book or the legal issues being discussed. The index is user friendly, and an extensive table of authorities will aid those researchers in search of additional information.
Fred Minnick wrote the Forward for the book. He is the award-winning author of seven books, including Bourbon: The Rise, Fall & Rebirth of An American Whiskey and Whiskey Women: The Untold Story of How Women Saved Bourbon, Scotch, and Irish Whiskey. He has also authored numerous articles that have been featured in such publications as Scientific American, the New York Times, Whisky Advocate, Whisky Magazine, and Bourbon Review.
A practicing lawyer whose cases have included Bourbon trademark litigation, author Brian Haara is co-managing partner of Tachau Meek, PLC, a commercial litigation firm based in Louisville, Kentucky. He writes about Bourbon, law, and history in his blog, Sipp'n Corn. Bourbon Justice is his first book.
This book certainly belongs in every American law library. However, this work goes well beyond the law; the story of Bourbon is the story of America's history. Any reader with an interest in our past will enjoy this excellent book about a wonderful beverage that has had an important effect on our nation.
Mark W. Podvia, is University Librarian, Head of Faculty Services, Curator of Rare Books and Archivist, George R. Farmer Law Library, West Virginia University College of Law, Morgantown, W.V. He is the author of "Bourbon and the Law: A Brief Overview," 8 Unbound 5-16 (2015).