Carmine The Snake: Carmine Persico And His Murderous Mafia Family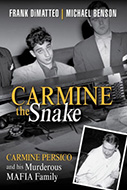 Authors: Frank Dimatteo and Michael Benson
Publisher: New York: Citadel Press, Kensington Publishing Corp., 2018. 293p.
Reviewer: Frederick T. Martens | July 2019
For those who thrive on Mafia folklore and stories glorifying those who preside over the families that comprise Italian-American organized crime, the name "Persico" provides a long and violent history among the "Five Families" that made up the so-called New York City Mafia. The moniker, "The Snake," singularly describes the ruthless reign of Carmine Persico, the boss of one of those families — the Columbo Family.
Co-authored by Frank Dimatteo, a self-described Mafia "aficionado," and renowned crime author Michael Benson, Carmine the Snake will not become part of the scholarly literature on organized crime. Nonetheless, it is both informative and a challenge to those who dismiss the reality of a "self-perpetuating criminal conspiracy" known as the Mafia or Cosa Nostra.
Having investigated the Profaci/Columbo Family during the 1960's and 70's, and having come into contact with some of the principal characters that are mentioned in the book, I witnessed the selective and brutish internecine violence that ripped through and fractured this family. Dimatteo and Benson provide an intimate and riveting portrait of a criminal organization that suffered from dysfunctional leadership and self-dealing greed.
Originally, the family name was the Profaci Family, headed by Joseph Profaci; but with his death in 1962 from liver cancer, Joseph Magliocco, Profaci's underboss, brother-in-law, and cousin officially assumed command of the family. Short-lived as boss, Magliocco was forced to retire after foolishly having contracted with Joseph Columbo, a capo in the family, to kill mafia bosses Thomas Lucchese and Carlo Gambino in an attempt to take control of what was known as the ruling commission of mafia organized crime. Columbo, in a classic double-cross, informed both Lucchese and Gambino, setting the stage for Columbo to become the new boss of the family. And in 1964, the name of the family was changed to the Columbo Family. Carmine Persico was elevated to the position of capo, or sort of third in the line of succession, thus setting the stage for his ultimate ascent to being the boss of the family.
Consistent with the theories of Donald Cressey (1969), Dimatteo and Benson describe a structure of bosses, underbosses, capos, and soldiers that make up this crime family. Of course, critics might argue that Dimatteo and Benson just accepted carte blanche Cressey's description of an Italian-American crime family. That could be a possibility if there were not enough evidence to corroborate Cressey, Finckenauer (2007), and others who have subscribed to the same structural arrangement idea.
The role that violence played in consuming the life of Carmine Persico and the Columbo Family generally is legendary. Persico, credited with the assassination of mob boss Albert Anastasia, thus "made his bones" — a sure-fire way of being inducted into the mafia. "Six months after the Anastasia hit, Carmine stood in a candlelit cellar…surrounded by a circle of men with their heads bowed…Carmine proclaimed his allegiance to the holy society, took the pledge of omerta, and swore that he would also keep one bullet for himself—in other words, that he would rather blow his own brains out than dishonor his new family" (pp. 63-64). Let there be little doubt, the mere mention of mafia or cosa nostra, "mobbed-up," "connected," or in this case, "Persico" is often sufficient to mitigate the need to engage in an actual act of violence, a characteristic that distinguishes mafia from many other forms of organized crime.
Another notable and discriminating feature of the Mafia is its resilience and durability. Regardless of deaths, whether through natural causes or assassination, the structure has a way of regenerating and maintaining itself. Kinship relationships often play a critical role in ensuring this stability.
While there are conflicting ideas among experts regarding the existence of a so-called oversight or ruling commission and its role in regulating the mafia families, Dimatteo and Benson, relying upon the evidence presented at what was known as the Commission Trial, provide a compelling case supporting its existence. The authors cite Michael Chertoff, the Assistant U.S. Attorney prosecuting that case: "What you will see, is these men, crime leaders, fighting with each other, backstabbing each other, each one trying to get a larger share of the illegal proceeds. You are going to learn that this commission is dominated by a single principle: greed…The commission has been around for years; ever since the five-family system was set up by Lucky Luciano in 1931…The Mafia is very relevant to this case. The Mafia is relevant because it is the Mafia that makes possible this kind of concerted activity." This argument was made to dispute Persico's claim that the mafia had nothing to do with his guilt or innocence (pp. 174, 209).
Interestingly and most strikingly, there is little discussion by these authors of corruption. Perhaps this is a consequence of the inordinate amount of violence that infected this particular crime family. With the exception of an FBI agent Lindley DeVecchio, who Dimatteo and Benson contend, inaccurately in my judgment, was passing sensitive investigative information, there are virtually no revelations here of police or political corruption. If indeed there is a negative correlation between corruption and the use of violence in the case of this family, that would support the thesis of those who claim that corruption has a mediating role in mitigating violence.
As informative and interesting and enjoyable as it is, the reader should be cautioned that this book is one in a genre of "tell and sell" biographies of organized crime kingpins. It should thus be taken "with a grain of salt." Caveat emptor!
Frederick T. Martens investigated the New Jersey faction of the Profaci Family in the 1960's and 70's. He retired from the New Jersey State Police as a Detective/Lieutenant. He is a former President of IASOC.
Cressey, Donald J. 1969. Theft of a Nation. New York: Harper and Row.
Finckenauer, James O. 2007. Mafia and Organized Crime. Oxford, England. One World Book.