Disruptive Prisoners: Resistance, Reform, And The New Deal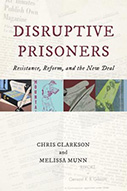 Authors: Chris Clarkson and Melissa Munn
Publisher: University of Toronto Press, 2021. 320 pages.
Reviewer: James Gacek ǀ January 2022
In their efforts to provide a social history of federal prisons in Canada, Clarkson and Munn offer a well-written, comprehensive book that should be celebrated as an exemplary effort to address a significant age of penal reform in Canada's prison history. Disruptive Prisoners makes a remarkable contribution to Canadian prison history, combining the insights and experiences of a criminologist with those of a historian. Divided into an introduction, six chapters, and a conclusion, the authors demonstrate their vigorous archival searches to unearth documentation that, for the first time, reveals the concerns and contradictions that characterize the attempted implementation of the Archambault Report recommendations. It is noteworthy that while prisoners can be made silent or ignored in other criminological or historical texts, here they are central figures; there is evidence indicating how prisoners were active social agents of change who advocated for reforms at times, and resisted initiatives at others. Strikingly, this book uses the penal press materials created by prisoners themselves to provide clever, creative, and holistic insight into Canada's 'New Deal in Corrections'. It is through these sources that, when taken together, Clarkson and Munn reveal a window of opportunity and exploration to critique dominant narratives of Canadian penal reform, showing them to be more layered and multifaceted than one would anticipate.
Indeed, weaving together prisoners' stories and writings, alongside the social history of attempted implementation of 'the New Deal' for prisoners, Disruptive Prisoners delivers a fascinatingly complex and complicated analysis that is succinct yet sophisticated. Crucially, this book endeavours to crystallize and illustrate a more capacious conception of Canada's legacy of failure and reform, especially when the authors rightly highlight the national undertaking that is the prison press – particularly its rise, its explanation of how progressive prison reforms played out on the ground, and its current struggles to survive a demise.
And while it is true that the prison press in Canada is almost non-existent today, prisoners still look for ways to resist. Perhaps that is the point to remember here; prisoners' stories, writings, narratives, and voices will always find ways to disrupt traditional and/or dominant understandings of imprisonment. Clarkson and Munn demonstrate that, through their dedication and passion for archival research, prison walls are not as impenetrable as one may think; disruptive influences within and beyond the prison can still provide a meaningful impact for progressive penal reform. Even today, it would serve the public well to remember that prisoners are people; it is only by listening to their voices ring out from behind prison walls that we can begin to see prison history differently, and then hope to change prison futures for the better.
James Gacek is an Assistant Professor in the Department of Justice Studies at the University of Regina, Canada.