Edwin H. Sutherland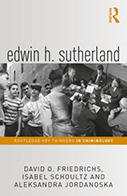 Authors: David Friedrichs, Isabel Schoultz, and Alexandra Jordanoska
Publisher: London; New York: Routledge, 2018. 204p. (Key Thinkers in Criminology Series)
Reviewer: Brian K. Payne | January 2019
For a seasoned (e.g., old) criminologist, reading Edwin H. Sutherland, written by David Friedrichs, Isabel Schoultz, and Alexandra Jordanoska for Routledge's Key Thinkers in Criminology Series, is like catching up with an old friend. You get to reminisce about old stories while hearing new nuggets that you want to tell other friends about. Am I the last one to learn that Donald Cressey thought Sutherland was a terrible teacher? Or, that Sutherland actually started his venture into sociology as what would be described as a "distance learning" student in today's vernacular? For those newer to criminology, the book provides an unapologetic, objective, and detailed overview of the history of criminology. In fact, the book is as much about our discipline as it is about the legacy of Edwin Sutherland, identified by the authors as the "father of the criminology of white-collar crime."  In the end, criminology graduate students will be better prepared for their futures, and criminology scholars will be better for the future of our discipline, after reading this book.
The book is divided into six easy to read chapters. The authors begin with an introduction to Sutherland's life and career. While most criminologists likely know that Sutherland was the son of a Baptist minister, many might be surprised to learn that Sutherland's first teaching assignment included Greek, Latin, and shorthand. Such a teaching schedule might make those of us who complained about our early "Monday, Wednesday, Friday" criminal justice statistics teaching assignments seem like whiners! Fortunately for our discipline, Sutherland eventually found his way to sociology. Friedrichs and his co-authors provide an extraordinaire overview of this trajectory in Chapter 1.
In subsequent chapters, the authors provide a detailed description of Sutherland's impact on criminology and criminological theory as well as an overview of Sutherland's writings on crime and the criminal law. The attention to detail gives readers an insider's perspective on the development of differential association theory, a theory that – like its creator – was almost an accidental addition to criminology. An overview of Chic Conwell (The Professional Thief) and white-collar crime is expected. Some readers might be surprised to learn that Sutherland also wrote about sexual psychopath laws. The authors do an outstanding job comparing Sutherland's writings about these laws with criminologists' reflections about modern sex offender laws.
After reviewing Sutherland's contributions, the authors delve into his connections with other sociologists and criminologists. It is especially refreshing to read about Sutherland 's connections to "key thinkers" of his era as well as those connections he has with modern "key thinkers."  Well-deserved accolades are shared, but so too are criticisms and shortcomings of Sutherland's work. There is no sugar coating and no punches are pulled. Through it all, though, Sutherland is treated fairly.
The last chapter of the book will be the favorite for many readers. Rather than simply stating that Sutherland has impacted a generation of criminologists and describing the works of those criminologists, the authors empirically examine his influence on a sample of thirty criminologists from across the world. What better way to assess the influence that a key thinker has had on criminology than to ask current criminologists how said key thinker has influenced their work? As the authors note, "the quantitative data on the number of citations of various works by Sutherland does not reveal enough on the influence that his scholarship has had on generations of criminologists" (p. 154).  Friedrichs, Schoultz, and Jordanoska (2018) prove this assertion is correct through their interesting and thoughtful analysis of the feedback they received from their sample.
Friedrichs and his co-authors left me wanting in three different areas. First, their book left me wanting to teach my next graduate criminology course so I can re-read this book with them. What better way to prepare our future criminologists than to spend time talking about our history?
Second, the professor in me couldn't help but want to know whether my graduate students would describe me as a "terrible teacher," as Cressey described Sutherland. In the interest of full transparency I checked RateMyProfessor.com (for Sutherland and for me). Sutherland was able to escape public assessments. It's probably a good thing, even though he likely would have received (and presumably appreciated) a pepper from Mary Bess Owen. For myself, while my pepper less RMP page is also void of scathing assessments from my graduate students, one or two undergraduates were apparently "not fond" of my white-collar crime class.
Third, just as I always want to know the ending of a good movie before it is actually over, the book left me wanting to know what is in store for our criminological future. Who will shape the future of criminology? What will their legacy be? Will our multi-disciplinary trend continue? Looking across our current population of criminology students, who will become a future key thinker? Perhaps one of our future key thinkers is a distance learning student in an online criminology class. After all, Sutherland was introduced to sociology in a home study course.
Whoever becomes our future "key thinker," let's hope they read this welcome addition to the criminological literature!
Brian K. Payne, PhD, Vice Provost, Professor of Sociology and Criminal Justice, Old Dominion University