Pushout: The Criminalization Of Black Girls In Schools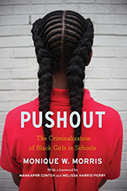 Author: Monique W. Morris
Publisher: New York, NY: The New Press, 2016. 256p.
Reviewer: Monique Coleman | January 2019
In Pushout: The Criminalization of Black Girls in Schools, Monique Morris explores the unique and disparate impacts that criminalizing conditions in learning institutions have on Black girls. At the core of Pushout's analysis is the incisive assertion that the mistreatment of Black girls is grounded in stigmatizing, historic perceptions of Black femininity. Throughout the book, Morris brilliantly employs personal narratives of Black girls who have experienced school pushout to deconstruct conventional understandings of classroom behaviors and interactions that are often perceived to be troublesome, particularly when exhibited by Black girls, and which often lead to exclusionary disciplinary actions. Morris' keen and compassionate analysis of the narratives offers valuable insight into the interaction of race, gender, class, sexual identity, and ability in the limiting of access to equal opportunities in schools.
Pushout's central argument advances a critique of school-to-prison pipeline discourse and literature for its overwhelming concentration on the conditions and experiences of Black males around zero tolerance discipline, to the near exclusion of Black girls. To rectify this myopia, Morris highlights the disproportionate effect that conditions leading to zero tolerance disciplining have on Black girls in particular, highlighting their "unique pathways to confinement" (p.11). Morris employs the phrase "school-to-confinement pathways" to capture the multiple sources of confinement and carceral conditions beyond prison and jail, such as detention centers, house arrest, and electronic monitoring, that are experienced by too many Black girls pushed out of schools. Compared to their White and Latina peers, Black girls have the highest rate of "person offenses" (e.g., assault, robbery, etc.) at 18.9 percent, and also experience a higher rate of residential placement (21.4 percent) than Latinas (8.3 percent) and White girls (6.8 percent) combined (21). By providing this expanded view of the school-to-prison pipeline and the centering of Black girls, Pushout makes a significant contribution to juvenile justice literature.
At the book's outset, Morris lays compelling groundwork for its focus on Black girls. She reminds readers of several egregious incidents of overzealous policing of Black girls that have captured national media headlines and public attention in recent years. In one of the extreme nationally publicized examples cited, six-year-old kindergartner, Desre'e Watson, was handcuffed and arrested at her school for throwing a tantrum in class (4). Morris also cites jarring statistics about the disproportionate representation of Black girls in the criminal and juvenile justice systems, making an impenetrable case for the need to explore the devastating and wide-reaching effects of zero-tolerance discipline policies on Black girls. For example, Pushout cites the most troubling reality that Black girls constitute 16 percent of the girls enrolled in school, yet they represent 31 percent of girls referred to law enforcement and 43 percent of girls with school-based arrests (p.50).
From the springboard of disconcerting national statistics and egregious incidents involving zero- tolerance school discipline, Morris brings forth the earnest and poignant voices of Black girls from California to New York City. Chapters one through four use the power of stories to shape themes related to the particular struggles of Black girls in learning environments. Morris' articulate centering of the experiences shared by Black girls is a clear demonstration of the book's call for the "full inclusion of Black girls in the dominant discourse on school discipline, pushout, and criminalization." The author acknowledges the individuality of Black girls while also identifying the structural forces that support or undermine their success in places of learning. A persistent theme that emerges from the narratives relates to the unique ways that Black girls are exposed to an increased multiplicity of pathways to confinement: a) school dress code policies that often slut-shame Black girls, cast them as deviant, and thus serve as grounds for punishment; b) sexual violence and exploitation; c) the reproduction of societal views on Black femininity that are reproduced in the classroom; and d) bullying and perceptions of unfair treatment by peers and teachers based on gender and ability status.
Morris describes the way that deep-seated stereotypes of Black women as promiscuous, intellectually inferior, defiant, and loud, interacts with Black women's tradition of speaking up and out against perceived injustice. For example, she cites early 20th century news articles from the Independent, in which Black women penned strong responses to being cast as immoral, inferior to White women, and innately promiscuous. Morris astutely extends this historical thread to the evolution of institutionalization of Black girls in correctional facilities, training schools and residential homes, highlighting the way these institutions failed to recognize the educative and rehabilitative capacity of Black girls.
While the historical linkages to contemporary conceptions and treatment of Black girls in schools is important to the book's central argument, Morris wisely avoids lengthy historical discourse that would overshadow a primary focus on the contemporary narratives of Black girls. Pushout links racialized gender stereotypes about the hyper-sexualization of Black women, which have their origins in the institution of slavery, to the modern stereotype of "fast" Black girls. The most painful and damaging consequences of this stigma are revealed in the way girls as young as fourteen talk about participation in sex work. As one girl conveys, "When you're a prostitute, 'cause I have been one for a couple of months now, like, when you're a prostitute, you gotta stop going to school because it's something that you have to do all day… It's the money… If I go out to work today, I can get my nails and stuff done" (p.99). These girls had learned that they should be more concerned with making money than going to school, but they also found that the sex work ultimately resulted in their pushout from school.
In discussing how the derogatory term, ghetto, is used in reference to Black girls, Morris reframes being "loud," as demanding to be heard; having an attitude as an astute reading and rejection of one's invisibility and mistreatment; and being flamboyant as a reversal of the notion that socioeconomic isolation means lack of access to materially pleasing things. Overall, the author asserts that the perceived negative attitude and "ghetto" behavior of Black girls is more properly understood as a testament to the historical survival mechanism of Black women and girls. One of the girls reflected this sentiment in the telling of her own classroom experience. "Us Black girls, like, if we don't get it, we're going to tell you…If we don't feel it's right, we're going to tell you. Where everybody else want to be quiet, it's like, no… we're going to speak up, we're going to speak what's on our mind" (p.62).
Pushout's narratives also reveal the persistence of inferior stereotypes of Black girls across learning institutions. Through her conversations with girls in juvenile detention facilities, Morris discovered that they actually experience increases in removal from class and suspension or expulsion in juvenile hall schools, despite the schools' stated goal to prevent drop-outs. These lockdown schools are characterized by hyper-punitive classrooms, below-level work, and frequent conflicts with teachers. As one student stated, "School here's really frustrating for me. The teachers here know that we're here temporarily, so I feel like they don't make sure that we're really learning" (p.162). Poignantly, the girls intuit the differential treatment they receive in schools and also recognize their negative behaviors that fuel many of their mistakes. Morris does not refrain from pointing out instances of poor decision-making and treatment of others; however, she reminds the reader of the psychological maxim, "hurt people hurt people." As Morris points out, it is a daily struggle for the girls to make meaning of their status as black females.
 The book's analysis of the intersecting factors underlying the criminalization of Black girls inside and outside of the classroom is capped in the last chapter by a set of solution guidelines focused on repairing relationships and building social connections in schools. Morris projects hope in the promise of schools to be protective, nurturing forces in the lives of Black girls. Perceptively, some of the girls expressed both an awareness of the important role of education in their ability to succeed and a desire to achieve in school. They also desire schools that have caring adults and structure, in a non-punitive way.
What ignites Pushout's culminating prescription is Morris' transparent pursuit of dignity, respect, and love for Black girls. This aim is evident throughout the book — fortunately without a concomitant fetishizing of the girls and their stories. Morris fully recognizes the complexities of the girls' experiences and alludes to how her own childhood school experiences as a Black girl mirror those of the girls in the detention halls. This meaningful personal connection helped Morris establish trust and rapport with the girls. She also expresses hope that the visibility of her professional success as an author – particularly of a teen novel that was a hit among girls in the various female juvenile detention facilities – allows the girls to envision better possibilities for their own futures.
Though Morris appropriately decries the research on the school to prison pipeline for its lack of focus on Black girls, she references existing work that addresses Black women and girls' internalization of the dominant views of Black female identity. For example, Blake et. al (2011) examine the types of discipline infractions experienced by Black girls and the resulting sanctions imposed on them. The latter found that Black girls are overrepresented in exclusionary discipline practices relative to their white and Hispanic counterparts. Morris expands this research, taking a deeper look at some of the causes of the infractions, several of which, including even sexual exploitation, arise outside of the school.
The author also references prior work which focuses on the unique educational challenges Black girls experience due to the stereotypical perceptions educators have of them, specifically their manners and behaviors (Morris, 2007). Pushout's intersectional approach highlights how perceptions of Black girls' femininity are shaped by race and class, and the adverse impacts these distorted conceptions have on their learning experience. Morris' earlier intersectional analysis is situated mostly at the classroom-school level; Pushout, on the other hand, deepens and shifts the critical lens. This is a book intended for the general population, and it is certainly critical reading for educators, scholars, activists, and others concerned about the disparate racial impacts of exclusionary discipline in schools. Though a couple of the girls in the narratives referenced their experiences in a predominantly White school, what I find generally lacking in Pushout is a discussion about how the over-policing of Black girls plays out in suburban and mixed-race schools. It is undisputed that Black youth in United States schools are disproportionately impacted by zero tolerance discipline policies. This suggests that this phenomenon does not solely function in learning environments in the most marginalized demographic areas. Yet, the literature rarely extends beyond urban, low-income schools, which experience the highest rates of violence. The nascent body of research on what Morris' aptly identifies as "school-to- confinement" pathways for Black girls would be deficient if it solely focused on conditions in predominantly poor and low income black and brown schools. As Morris aptly notes, the lives of future generations of girls and boys, and the shaping of their own identities, are at stake.
Monique Coleman Doctoral, Candidate at the Rutgers GSE, Education Culture and Society Concentration
References Blake, J. J., Butler, B. R., Lewis, C. W., & Darensbourg, A. (2011). Unmasking the inequitable discipline experiences of urban black girls: Implications for urban educational stakeholders. Urban Review: Issues and Ideas in Public Education, 43(1), 90–106. Morris, E. W. (2007). "Ladies" or "loudies"?: Perceptions and experiences of black girls in classrooms. Youth and Society, 38(4), 490–515.