Falling Back: Incarceration and Transitions to Adulthood among Urban Youth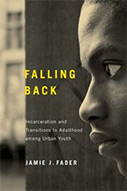 Author: Jaime J. Fader
Publisher: New Brunswick, NJ: Rutgers University Press, 2013. 256p.
Reviewer: Robert Costello | March 2014
The New York House of Refuge in 1825 opened the first institution created to accommodate juvenile delinquents, and many cities and states soon followed suit. While 189 years have passed, the effectiveness of juvenile facilities remains an open question, even though the United States has 48,000 juveniles living in such facilities at an annual cost of $5.7 billion dollars.
Adding to the chain that links back to Robert E. Park and the Chicago School of Sociology, author and researcher Jaime Fader wanted to understand the experience of juvenile justice from the perspectives of the young people inside the system. The focus of Falling Back is "Mountain Ridge Academy"– a reform school for delinquent youth several hours from Philadelphia. The term "falling back" is an expression used by the young male subjects referring to ceasing criminal activity and going straight.
Fader used ethnographic research methods in carrying out extensive interviews and participant observations from 2004 and 2007 with 15 young black and Latino men who had been adjudicated delinquent and ordered to Mountain Ridge Academy. She offers a fresh perspective on the long standing questions about juvenile incarceration. Fader's goal is to "explore[s] how precariously situated young men achieve manhood and the sources of change in their lives…[and to]focus on the intersection between the formal, institutional attempts to reform youth within the juvenile justice system and their own conscious attempts to attain adult milestones and stop offending." (5)
"Child Savers" — the earliest juvenile justice reformers — decided the roots of juvenile delinquency were in a lack of moral education and standards. Likewise, the Mountain Ridge Academy utilizes an approach called "criminal thinking errors" that aims to help residents recognize patterns of thinking that lead them to delinquency. The author dissects the Mountain Ridge Academy approach over 8 chapters by effectively becoming a voice for the voiceless young men who experienced it firsthand. Each chapter is well structured and Fader is clearly a gifted writer who is able to connect and couch her work and findings with the wider theoretical foundations in the field. She tells the lived experiences of these young men so precisely that it is a sobering reminder that real people exist behind the statistics comprising a picture of the juvenile justice system.
While the entire work is outstanding, special mention of the final chapter must be given as Fader did a masterful job with it. She presents her conclusions in a question and answer format that shows how and why the findings drawn in this research study are applicable to other young men of color.
Reform programs such as the Mountain Ridge Academy generally fail — mainly because the structural sources of criminality remain, and the skills taught at reform schools are too often disconnected from the environmental realities students face upon their return home. It is the hope that programs and agencies charged with helping young people transition into law abiding adults will utilize this and similar research to help end the cycle of criminality gripping pockets of America.
Readers will commend Fader for her work and will look forward with anticipation to her future contributions. As for an audience for the book, it is better suited for a graduate class or upper-level undergraduate seminar as it offers advanced themes and concepts well above an introductory level.
Robert Costello, JD, Ed.D., Associate Professor and Chair of the Criminal Justice Department, SUNY Nassau Community College and Adjunct Associate Professor in the Sociology Department, Hofstra University