Illegal Mining: Organized Crime, Corruption, And Ecocide In A Resource-Scarce World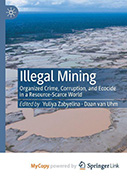 Editors: Yuliya Zabyelina and Daan van Uhm
Publisher: Cham: Springer International Publishing (Palgrave Macmillan), 2020. 610p.
Reviewer: Monique C. Sosnowski | September 2021
In Illegal Mining: Organized Crime, Corruption, and Ecocide in a Resource-Scare World, editors Zabyelina and van Uhm bring together over twenty scholars forging a way into the much understudied but academically bountiful realm of illegal mining. Together, these scholars examine a broad spectrum of illegal mining matters using historical case studies up through currently ongoing affairs. In doing so, they provide a powerful primer for anyone curious about the world of illegal mining, and more widely, environmental crime. Through their works, this specialized collection of authors, which includes legal scholars as well as metal and mineral extraction subject experts, calls for measures to prevent and combat illegal mining and its related trafficking.
Illegal Mining is amongst the first scholarly collections on illicit extractive activities. International in scope, this book is a comprehensive and timely analysis of illegal mining in minerals and metals. Its' essays span the humidity of the Amazon's rainforest to the depths of Ukraine's amber mines, through Pennsylvania's open plains — illustrating the mining supply chain, from extraction to laundering and export, as well as the global scope of this illicit industry.
For those interested in environmental crime and ecocide, this book provides powerful discussions on the effects of mining on water pollution, biodiversity loss, soil erosion, and other damages. It highlights the scope and severity of conflict resource extraction and subsequent trade, with insightful examinations of high-profile goods, such as conflict diamonds.
Readers more interested in crime should brace for an engaging application of varied criminological theories and the thorough coverage of intersecting crimes. Elucidated is the involvement of organized criminal groups in illegal mining, making this an excellent read for those interested in a spectrum of organized crimes, from human and drug trafficking, to forced labor. The authors particularly highlight the involvement of groups such as Al Shabbab, the Taliban, Colombia's Clan de Golfo, and the Knights Templar Cartel. Further, their exploration of how smuggling, corruption, and money laundering intersect with mining illustrates the dynamic and complex nature of the industry. The investigation of this nexus allows the reader to gain an understanding of how organized criminal groups infiltrate extractive, or more broadly illicit environmental industries, as a means of diversification and opportunism.
Overall, Zabyelina and van Uhm's collection is written clearly enough for the curious general public, but technically sophisticated enough for diverse criminological and environmental scholars to gain further insights into their respective fields of study. The book is highly recommended to those interested in environmental crime, extractive industries, and organized crime, among others, as it provides new and exciting perspectives on both existing and novel areas of study.
Monique C. Sosnowski, Criminal Justice Doctoral Student, John Jay College of Criminal Justice