International Perspectives On Cyberbullying: Prevalence, Risk Factors And Interventions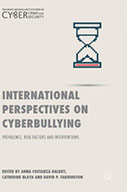 Editors: Anna Costanza Baldry, Catherine Blaya and David P. Farrington
Publisher: London; New York: Palgrave Macmillan, 2018. 348p.
Reviewer: Masa Popovac │ July 2020
International Perspectives on Cyberbullying: Prevalence, Risk Factors and Interventions shares knowledge about cyberbullying and cybervictimisation prevalence rates, risk and protective factors and key recommendations for policy, research and practice in 10 countries. In particular, the book outlines a new approach to intervention and prevention efforts relating to cyberbullying and cybervictimisation using the Threat Assessment of Bullying Behaviour among Youngsters (TABBY) intervention.
The book is divided into four parts. Part I presents a general overview of the issue of cyberbullying and cybervictimisation, including definitions, nature and types, and risk and protective factors more broadly (Chapter 1) and then outlines the core principles of the TABBY project (Chapter 2).
The TABBY project utilises risk assessment principles and is an interdisciplinary and integrated approach in the sense that it draws on knowledge from criminology and related social sciences. The intervention is tailored to school needs and focuses on understanding risk and protective factors that drive cyberbullying and cyberaggression. The intervention is aimed at both teachers and students in a school setting. In terms of young people, the intervention takes a perspective-taking cognitive approach, focusing on increasing their awareness of the impact of their online actions and behaviours on others; a lack of awareness in this area is deemed a risk factor for cyberbullying. Relatedly, it is argued that empathy training thus has the potential to reduce aggression including bullying. For teachers, the goal is to train them to engage with young people and to be able to provide their students with information about online risks and how to avoid them. The intervention is described in some detail and highlights a TABBY 'toolkit'. This toolkit includes a checklist to assess the extent of the problem within the school environment which helps to ascertain areas of focus for the intervention within the class sessions. It also presents additional resources and materials such as video clips that can facilitate discussion around particular topics as well as a teacher training manual.
Part II of the book presents three chapters which outline the situation of cyberbullying and cybervictimisation in Canada, the US, and the UK and Ireland respectively. These chapters do not discuss or utilise the TABBY intervention. Instead, the information presented in these chapters is information highlighting prevalence rates, nature and types of cyberbullying and cybervictimisation as well as examples of intervention programmes and approaches that have been implemented in each of these contexts. The countries represented in these chapters are arguably contexts where much more research and intervention work on cyberbullying and cybervictimisation has already been conducted, and thus this general overview offers some broader perspectives and insights into the issue. These chapters are written by authors who are leading experts in the field, not just in terms of their research in the area but also in terms of actively being involved in intervention work. Each chapter incorporates a critical evaluation of progress and limitations in knowledge and practice, making this section useful for both researchers and practitioners. It summarises the core research and work that has been done in terms of intervention and prevention efforts, which could be a useful basis for others to build on. This is particularly the case for researchers and practitioners working in countries where work in this area is in its infancy, as it shares best practices and future directions. There is thus a lot to be gained from these chapters, which in many ways is a highlight of the book.
Part Ill of the book presents the implementation of the TABBY intervention project in six European countries. The authors of these chapters discuss prevalence rates and key risk and protective factors within their research contexts. The outcomes and findings lead the authors of these chapters to highlight recommendations for policy and schools that are most relevant in their country. The chapters vary greatly in terms of the types of schools selected, geographic dispersion and sample size, with some countries facing more barriers in the implementation of the project than others. The chapters in this section are likely to be of more interest to researchers working directly within each of these countries, rather than to researchers more widely. There is still some opportunity for those working on online safety related issues beyond these countries to learn from the implementation of the TABBY project in these six countries. However, it is some effort to extract these core messages in order to be able to apply them more broadly. This is despite Part IV of the book outlining some core conclusions and policy recommendations following the implementation of the TABBY project across the six countries.
The final section of the book initially provides a summary of the main recommendations for each country, though perhaps this is covered exhaustively given the dedicated chapters for each in the previous section. At this stage much more could be made of how the lessons learnt from each of these countries could be applied elsewhere, which would make the book considerably more relevant to a wider audience. To this end, the book does present 10 'silver bullet' recommendations which act as 'take home' messages from the comparative findings outlined in previous sections. These recommendations emphasise a layered approach to interventions in this area that includes young people themselves, parents, teachers and schools as well as macro-level factors such as policy, law and the need for research funding. This will not necessarily be news to researchers or practitioners working in this area as much of the literature points to an ecological approach to targeting cyberbullying and cybervictimisation, though this point does strongly resonate with the reader. The last four pages of the book are effectively where the book integrates the recommendations into general paths forward for intervention efforts, and these represent the heart of the book in in terms of delivering tangible information to researchers and practitioners working in countries beyond those covered in the book. Despite more emphasis being possible to aid in extending the applicability of the book to a wider audience, these last few pages are a useful summary nonetheless. The book is not written for a young audience, and they are unlikely to pick up this book, but this section will be helpful to teachers and parents allowing them to extract the most relevant advice.
The particularly good aspects of this book are that it offers a global perspective on cyberbullying and cybervictimisation from experts in the field, and outlines the implementation of an intervention in several countries which allows for a comparative approach. Empirical evidence is presented throughout the chapters that have implemented the TABBY intervention. The book highlights the importance of raising awareness around this issue and the important role that teachers and parents play in online safety and how they can work together to address cyberbullying, improve the school climate and foster young people's active participation in cyberbullying prevention. It also highlights structural and policy-related recommendations that could assist in these efforts.
The TABBY intervention may not strictly-speaking fundamentally alter the way researchers and practitioners who work in this area operate due to much of the literature in various disciplines pointing to this kind of approach. However, the TABBY project does provide further evidence to support an ecological approach to addressing cyberbullying and outlines the associated effectiveness in a number of countries. It also presents resources such as a checklist, videos and activities for easier implementation elsewhere. Not all of these resources are available on the website and not all components are translated, however, which is likely to be a barrier for anyone wishing to delve deeper into this intervention approach. Clearly, however, work on this project is ongoing. The intervention also presents a theoretical lens that is interdisciplinary. It utilises risk assessment principles and work around delinquency within criminology, while also drawing on various psychological theories (e.g. cognitive, social) which is a further strength.
Ultimately, the book contributes to ongoing efforts in interventions on cyberbullying and offers insights and principles that are useful more broadly in enhancing the online safety of young people and, for this, the contributing authors and editors should be commended. The book reiterates the need for ongoing research to overcome measurement barriers in relation to this topic area as well as the need for longitudinal research that can enable further understanding of developmental trajectories and risk and protective factors over time. It also highlights the need for interventions around cyberbullying and cybervictimisation requiring an evidence-base, through evaluations of effectiveness rather than focusing on intuitive approaches to online safety. One core aspect relevant for research that is indirectly highlighted through this book via the countries presented is that much of the current research and intervention is occurring in North America and Europe. This underscores the importance for further study of this important issue in other cultural and socio-economic contexts. The knowledge and experience of addressing cyberbullying and cybervictimisation that is gained from the 10 countries reported in this book can go a long way in informing the way forward elsewhere, and this will undoubtedly be of interest to researchers and practitioners beyond Western countries for this reason.
Masa Popovac