Italy Beyond Gomorrah – Roberto Saviano And Transmedia Disruption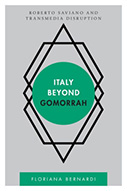 Author: Floriana Bernardi
Publisher: Lanham, MD: Rowman and Littlefield, 2017. 136p.
Reviewer: Anna Di Ronco | January 2019
"Minister Salvini: here is why your Lega [the political party which he leads] hasn't gotten the 'ndrangheta yet" and "The 'ndrangheta makes money in the north [of Italy]" – this is what Roberto Saviano writes on La Repubblica in these days (Saviano, 14 August 2018). Clearly, his intent is to challenge the approach of the current Interior Minister Matteo Salvini and his party towards the 'ndrangheta, the most powerful Italian criminal organisation.
Floriana Bernardi writes that since the publishing of Gomorrah in 2006, Saviano has consistently acted as a public intellectual, using various media – including social media – to raise people's awareness of organised crime, to challenge long established power structures and dynamics (particularly in Italian political and media institutions), and to encourage people to rise up and change things, particularly the rotten status quo. In so doing he has distanced himself from many Italian intellectuals, who have traditionally been very wary of engaging with the general public, preferring elite circles as outlets for their speculations. The techniques used by Saviano are beautifully described by Bernardi, who has appropriately drawn on semiotics and cultural studies in an effort to explain Saviano's massive media success. In particular, his success seems to have much to do with a combination of bodily and emotional involvement in the narration – a combination that has made Saviano and his story credible and emotionally appealing to his readers. As explained by Bernardi in her last and most interesting chapter here, the established emotional ties between Roberto Saviano and his supporters have also led to the creation of affective relationships around Saviano in the digital world, which have also had an impact in real life (e.g., with protests organised in support of the author who was threatened by Camorra — another criminal organization — in 2006 after the release of his book Gomorrah). Although, as suggested by Bernardi, Saviano's engagement or impegno may have surely contributed to people's active and democratic participation in challenging ideological structures of power, particularly from 2006 until 2011, it is difficult to gauge the extent of this contribution through the years in the light of the possible interplay of different factors, which are really only partly addressed in this book, particularly in chapter five.
The case of Roberto Saviano as "hero", "pop star", "brand", "media phenomenon" etc., as intelligently analysed by Bernardi in her book, should not only interest scholars working on social semiotics and cultural studies. It should also or especially be read and considered by scholars interested in the public role of intellectuals, and particularly in the public role of sociologists and criminologists. The violent nature of Camorra, the infiltration of various organised crime groups in the licit economy in the north of Italy as well as internationally, and the collusion between mafias and politics are certainly not new to Italian academics and international scholars, who have long since worked on these topics. However, they have not been that successful in conveying these messages to the public, whereas Saviano (often using the findings of the academics mentioned above) has certainly been very successful in this. His example should be an invitation for sociologists and criminologists to consider engaging more with traditional and new media, and to use less technical and perhaps more narrative and emotional language when disseminating their findings to the public.
Dr Anna Di Ronco, Department of Sociology, University of Essex