Let The People See: The Story Of Emmett Till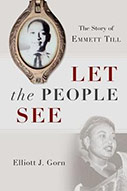 Author: Elliot J. Gorn
Publisher: New York: Oxford University Press, 2018. 392p.
Reviewer: Michael J. Pfeifer │ July 2020
Elliot J. Gorn's well-written monograph on Emmett Till joins a recent flowering of scholarship on the Till case, including important books by Timothy B. Tyson, Christopher Metress, and Devery S. Anderson. What is most valuable about Gorn's book about the life, death, and legacy of the Chicago fourteen-year-old murdered by white racists in Mississippi in 1955 is its comprehensive approach, and its melding of an accessible narrative with an analytical approach.
In thirty-six succinct chapters (including an introduction and conclusion), Gorn traces the contours and context of Till's short life, his death, the trial of his murderers, the separate trajectories of the afterlife of his murder in the black and white communities, and the ways in which in recent decades the case has re-emerged in the public discourse. The trial of two of Till's white murderers, Roy Bryant and J.W. Milam received national and international attention in September 1955, and their acquittal became a symbol of Southern racial oppression. Bryant and Milam confessed in a January 1956 Look magazine article written by William Bradford Huie; Gorn carefully scrutinizes Huie's questionable journalistic techniques and pecuniary motivations for publishing the article. Gorn argues that the case quickly faded from memory for the white community only to be restored to white collective memory through media excavations since the 1970s. On the other hand, the case's emblematizing of white supremacy and Southern racial injustice lingered profoundly for African Americans, a legacy due at least in part to the powerful witness of Emmett's mother, Mamie Till Bradley, including her insistence that her son's brutalized corpse be displayed at his funeral in Chicago, photos of which were published in the African American press. The author's analysis includes revelations in FBI interviews in the 2000s, along with the admission of Carolyn Bryant to historian Timothy Tyson in 2016 that she had "made things up" when she testified in 1955 that Emmett Till had whistled, grabbed, and propositioned her in Bryant's Grocery Store. The epilogue stresses the Till case's continuing resonance, with heritage tourism in Mississippi emphasizing sites associated with it, the recent vandalism done to Emmett Till historical markers in the Delta, and the 2017 controversy over white artist Dana Schultz's painting Open Casket, which some critiqued as "death porn" that instrumentalized African American suffering for white audiences. In July 2018, as Gorn's book went to press, the U.S. Justice Department re-opened its investigation into the Till case in light of Carolyn Bryant's admission to Timothy Tyson published in his 2017 book The Blood of Emmett Till. In his introduction, Gorn highlights the long-lived power of the Emmett Till story. "Sixty years after they killed Emmett Till, his story refuses to go away. Indeed, his memory is more alive now than at any time since 1955, invoked in many variations… Emmett Till's killers could not hold his memory down any more than his body, and it still keeps surfacing in unexpected times and places" (3,6).
Gorn effectively situates the collective racially-motivated murder of Emmett Till within the context of the history of Southern lynching and racial violence, noting that southern white conservatives and liberals rejected the term 'lynching' for the killing of Till, as they sought to distance the South from its benighted brutally racist past. Yet others at the time did not shy away from calling Till's death a lynching, and his collective murder fits the larger pattern in which post-Reconstruction Southern lynchings had declined precipitously from their peak in the 1890s and first decade of the twentieth century, and had largely gone underground and were performed secretively by small groups rather than publicly by large groups by the late 1940s and early 1950s. Many scholars of lynching have used the definition agreed upon by experts on Southern mob violence in Tuskegee, Alabama, in 1940, which stipulates that a lynching must be perpetrated by a group, with a group defined as "three" or more persons. Evidence suggests that Bryant and Milam may have enlisted several other men in perpetrating their act of racially charged homicide, which would fit the Tuskegee definition. Yet, arguably the Tuskegee definition becomes less important after the mid-1940s, as racially motivated collective killings furtively conducted by very small groups assumed the functions that lynching carried out by large groups had previously.
Gorn seemingly conflates Southern lynchings with highly ritualistic spectacle lynchings, writing: "Above all, lynching was not just killing, it was torture turned into spectacle—mutilation, use of blow torches, cutting off body parts, burning victims alive—all elements of vigilante justice" (p. 37). While spectacle lynchings did not comprise the majority of lynchings of African Americans in the South—most lynchings of African Americans were not highly ritualized and were not performed before extremely large crowds– these acts of gratuitous, sadistic ritualistic violence performed before enormous crowds attracted extraordinary attention and were experienced vicariously through images on postcards, becoming crucial cultural symbols of white supremacy. Gorn is surely correct that the sadistic violence of the murder of Emmett Till links directly with the spectacle lynching tradition of racially charged southern violence, including the nexus of race and sex which Ida B. Wells influentially pointed out involved a minority of cases of southern lynchings of black men (murder and assault rather than rape allegations predominated in actual lynching cases). This nexus loomed large in the Southern white defense of lynching which asserted that it was supposedly necessary to protect white women from black men. Gorn properly notes that the absence of a federal anti-lynching law—such legislation had failed in the US Senate on numerous occasions due to opposition from Southern senators asserting the doctrine of state's rights–provided the U.S. Justice Department a rationale for refusing to get involved in the Till case. However, as the author argues, there was federal involvement in the sense that J. Edgar Hoover utilized the FBI to spy on Communists and others that he believed were using the outcry over the manifest injustice of the Till case to promote leftist causes. In his epilogue, Gorn appropriately identifies the legacy of the Till case in the continuing dialogue over American racial injustice in the Black Lives Matter movement and its protest of the lack of justice for the killings of African American men and youths such as Michael Brown, Eric Garner, Laquan McDonald, Philando Castile, Tamir Rice, and Trayvon Martin. As he notes, Till's resonant memory has at times been invoked in the public discourse surrounding these more recent racially charged deaths.
To this reviewer, Gorn reaches the pinnacle of his narrative and interpretive powers in the middle of the book as he skillfully recreates the September 1955 trial of Till's murderers, Bryant and Milam, using deft reading of myriad primary sources to situate the reader in the courtroom, in the context of whites and blacks in the Mississippi Delta responding to the first wave of the Civil Rights Movement, and in Chicago, where black migrants from the Delta responded with knowing horror and outrage at the white South's cruelty. He effectively develops the Cold War context here in which the Soviets effectively employed visceral evidence of American racial injustice such as the Till case as powerful propaganda against American democracy, even as the Eisenhower administration refused to take action. Gorn also meaningfully recreates the worlds of the young Emmett Till and of his mother Mamie Till Bradley along with those of his murderers Roy Bryant and J.W. Milam, identifying gaps in the historical record and offering plausible interpretations of actions and motivations. Finally, he convincingly suggests the reasons why the story of Emmett Till continues to grip the American psyche. "Emmett Till's story is invoked again and again today because it has become our foremost civil rights tale of innocence violated, of undeserved suffering and death" (292). While other scholars have also powerfully documented and analyzed aspects of the story of Emmett Till, and Timothy Tyson's recent book should also be read by all interested in the Till case, Elliot Gorn's book is highly recommended for its deep excavation of archival sources, its readability, and its analytical power.
Michael J. Pfeifer, Professor of History, John Jay College of Criminal Justice and the Graduate Center, City University of New York