On the Account: Piracy and the Americas, 1766-1835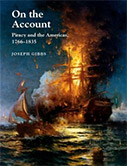 Author: Joseph Gibbs
Publisher: Eastbourne, UK; Portland, OR: Sussex Academic Press, 2012. 249p.
Reviewer: Sam Bieler | July 2013
Seeking to provide an authentic, unfiltered view of piracy in the Americas from the late 17th to early 19th century, Joseph Gibbs' On the Account: Piracy and the Americas, 1766-1835 uses a series of primary sources to relate significant incidents of piracy during that period. Gibbs' determination to rely largely on the documents themselves to relate the significance of the narrative they convey provides the narrative with an authentic feel, but its lack of curation or strategically placed background information makes this book a challenging resource for casual readers.
Gibbs organizes the book along chronological and broadly thematic lines: each chapter includes a selection of sources generally organized around a central incident and era. In editing these sources the author has chosen to hew as closely as possible to the original texts, making only what edits are necessary to prevent the meaning of the text from being obscured. To further preserve the flow of the historical context, there is minimal in-text editing or background information; the author's stated aim is to allow the sources to "tell their own story". Included works thus maintain a great deal of their integrity and serious scholars of the era will find this to be a highly usable sourcebook. This relative lack of editing and context, however, is not without cost.
The limitation of explanatory background fulfills the author's goal of allowing the sources to tell their own story, but it does limit On the Account's effectiveness as a sourcebook. The late Age of Sail provides a historian with a wealth of written works and the compiler of a sourcebook has a vast array of material from which to choose. While this cornucopia of information is a boon to scholars, it places a burden on the editor to explain what makes the set of sources selected for inclusion uniquely valuable or representative of historical trends. While the author has dozens of interesting works, drawn from a broad cross section of sources, the primary organizational scheme is chronological, with only brief thematic background provided to assist the reader in determining the relative importance of these sources to the broader historical trends and narratives of the era.
Further complicating this book's value as a resource is the decision to put the majority of background information into the footnotes of the book. These footnotes provide a wealth of historical and contextual data; but because they are footnotes rather than part of the book's narrative structure, the reader is denied the historical scaffolding they might have provided – one allowing for the creation of a more thematically organized work.
This structure makes a full reading of On the Account daunting, but specialist audiences with solid prior knowledge about the historical trends surrounding piracy in the Americas will find the book to be a useful resource providing minimally edited primary source materials and detailed context for dedicated readers.
Sam Bieler is a Research Associate at the Urban Institute