This Is Ohio: The Overdose Crisis And The Front Line Of A New America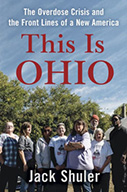 Author: Jack Shuler
Publisher: Berkeley, CA: Counterpoint Press, 2020. 304p.
Reviewer: Paul Draus | May 2021
Jack Shuler's This Is Ohio (Counterpoint Press, 2020) provides a perspective on the opioid epidemic that is refreshingly focused on those working on the ground to save lives and change policy, as opposed to street-level dealers, pharmaceutical companies, or the tragedies of daily users. All of these are touched upon, but the story Shuler really wants to tell is one of a community struggling to build power and own its voice. Shuler is the chair of the narrative journalism program at Denison University, and this book provides an illustration of that approach, which leans toward ethnography but without any troubling theoretical debates about positionality or reflexivity. He effectively draws us into the lives of the people he describes, and in doing so he calls attention to the gaps and shortcomings that are rooted in policy and prejudice, as well as in the profit motive.
The book is mainly set in Newark, the seat of Licking County, Ohio, located about forty-five minutes outside of Columbus. Shuler is a resident there, and by the end of the book the reader understands that he is not just a chronicler but a participant in the lives of the people he portrays. The cast of memorable real-life characters includes Trish Perry and Jen Kanagy, founders of Newark Homeless Outreach; Trish's son Billy McCall, an addict struggling to achieve not only recovery but system reform; Lesha Farias and Allen Schwartz, creators of the Think Tank, an antipoverty group that centers the experiences of poor people in all its activities; and Eric Lee, a formerly incarcerated African-American man in long-term recovery who devotes much of his life to aiding others overcome their addiction one day at a time.
One chapter of the book includes a phone interview with Bruce K. Alexander, who conducted the famous "Rat Park" experiments of the 1970s, and later wrote a book entitled The Globalization of Addiction (2008). Alexander argues that placing the blame for opioid addiction solely on large pharmaceutical companies is too narrow an approach. Shuler relates the epidemic to the broader history of resource extraction in Appalachia, a process that has devastated communities in multiple stages over a period of centuries. Here he follows Alexander's lead in writing that "addiction is a political problem, wrapped up in structures that need to be transformed" (p. 169). Prominent among those structures are the health system, the economic system and the criminal justice system, which effectively conspire to keep addicted people on the margins of society, even in small towns like Newark that may present a wholesome all-American face.
From 2002-2005, I worked as a Project Ethnographer on studies of illicit drug use in both rural and urban Ohio. This involved going into communities, meeting and interviewing active drug users or those in treatment about the circumstances surrounding their histories of use. This was before the "Opioid Epidemic" had been named as such, but it was already underway. OxyContin™ use was surging in rural areas of Ohio as well as in Appalachia, and this dependency paved the way to regular heroin use, as the price of diverted "Oxies" at $1 a milligram or $30 a tablet, became prohibitive. I remember the pair of young white women who found their way to our office, looking to do an interview. They were at that time engaged in daily heroin and cocaine use, driving every day from their homes in central Ohio to the city of Dayton, about an hour away, where I was living at the time. One of those young women later died of a heroin overdose. We saw the obituary in the town paper, and I attended the visitation, though I could not say to her mother who I was or how I knew her, due to our confidentiality protections. We had tried to refer her to treatment services, but the options for heroin users at that time were very limited. Reading Shuler's book, I thought back on her and all of the other people we met, and wonder how many have died unnecessarily, as a result of their addiction.
This Is Ohio poses this question: does a person with an addiction deserve to die? Do they deserve to be punished? Should they be treated as less than human? As one of Shuler's contacts tells him, "We don't have an addiction problem. We have a stigma problem." The most heartbreaking part of the book concerns Billy MCall's efforts to not only overcome his own addiction, but to save the lives of others by promoting effective harm reduction in the city of Newark. He becomes a local face of the movement, someone who has seen the worst of what addiction can do, and turned his life around. He starts a successful painting business and throws himself into the harm reduction campaign, attending health department and city council meetings, and arguing for policy changes. At one point, the local board of health hears all the testimony of those affected by overdose, as well as the substantial empirical evidence in favor of needle exchange programs, then dismisses the public audience, closes the doors, and unanimously rejects their proposal, without any explanation.
This episode and many others in the book serve to illustrate the insanity of US drug policy, which systematically compounds harm rather than reducing it. Billy's relapse and return to prison seem almost inevitable, given the expectations and obstacles, internal and external, that he faces in this quixotic quest. But as disheartening as these personal and policy failures may be, Shuler returns again and again to the people who do the work, and keep doing it, in spite of those obstacles. City council and recovery meetings with their microscopic dramas become part of an epic struggle playing out in one of American's innumerable home towns. In the end, Shuler's book is about people, not policies—people on the ground, doing the work, "meeting people where they're at", as expressed by those who advocate for harm reduction.
There are some missed opportunities. Shuler could dive deeper into the dynamics of small-town gentrification, which are touched on briefly at one point in the book. While the external stigma faced by users is a major focus for Shuler, and rightly so, the role of personal and social trauma is not as fully explored. The complexities of class, gender and race in a small-town are also underexamined–though Shuler does relate the social marginalization of substance users to that endured by people of color, the varying consequences of substance use for these different populations are not discussed in detail.
In his postscript, Jack Shuler briefly addresses the intersection of the COVID-19 pandemic with the opioid epidemic, highlighting once again the gaps in care that effectively sentence some people to death. At the same time, he writes, these conjoined plagues also illuminate the human obligation we have to care for each other. Perhaps this lesson will stick. If so, Shuler has identified some of those who should be our teachers.
Paul Draus, PhD, Director, Criminology and Criminal Justice Graduate Studies, Professor of Sociology, Department of Behavioral Sciences, The University of Michigan-Dearborn