Five Families: the Rise, Decline and Resurgence of America's Most Powerful Mafia Empires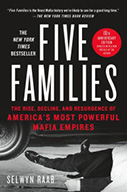 Author: Selwyn Raab
Publisher: New York: St Martin's Griffin, 2016. 816p.
Reviewer: Frederick T. Martens | May 2017
Before I choose to review this revised edition of Selwyn Raab's book (I reviewed the first edition in 2006), I must confess that my relationship with Raab is that of a close friend and confidant. We go back many decades. I have followed his career as he has mine; and I consider him one of the most knowledgeable and prolific writers on the Cosa Nostra.
Raab's credits speak for themselves: George Whitmore, an innocent man, released from prison because of his investigative journalism; Rubin "Hurricane" Carter and John Ardis given new trials because of his investigative acumen; and the publication of this magnum opus on the Mafia in New York that has been praised by Don Hewitt and Mike Wallace of 60 Minutes, and many other renowned journalists.
This leads me to what is probably the most likely criticism that can be made of Raab: he is a journalist not an academic. He lacks the theoretical perspective and academic credentials that can parse and isolate the sociological, economic, or criminological variables that define and describe the structure, functions, strategies, and illicit markets of criminal syndicates. Simply said, journalists are more concerned with sensationalism and polemics than they are with theories and empirical data.
That is one take, certainly not mine.
Let me suggest another, particularly when it comes to FIVE FAMILIES. Rather than recognize this encyclopedia of raw information as the work of a journalist, a more nuanced view should be that of an urban ethnographer. For that is what Raab essentially is. An urban ethnographer who has combed the nooks and crannies of the underworld in what the late Mafia boss Joseph Bonanno refers to as "The Volcano" —New York City.
Raab has devoted a career to meeting with gangsters, mob bosses, corrupted politicians and police, and law enforcement professionals. He is no neophyte; not one to be bamboozled by those he encountered in his 50-plus year career as a journalist; 25 years for the most respected newspaper in the world, The New York Times. He is a tried and true urban ethnographer—one who has provided the reader with a detailed, in-depth description of the everyday life and practice of the gangster or racketeer, and those who spend careers investigating and prosecuting organized crime.
So, what does Raab tell us about the New York families that can be translated into understandable criminological themes?
First, he speaks to the notion of ethnic succession in organized crime. According to Raab: "The Mafia's continued activities in New York demonstrate that holdouts can survive and still prosper from gambling, loansharking, and protection rackets…Throughout the onslaught against their families, America's wiseguys have retained a precious asset that contributes to their survival. It's the media's romanticization of mobsters, subtly encouraging acceptance of the Mafia as just another aspect of the nation's culture…Their quest is simply the American ideal of obtaining wealth and respect, even if an occasional homicide or betrayal is required" (p. 700).
What this does not tell us, however, is why the Mafia culture has not given way to the process of assimilation and acculturation as had been the case of other ethnic groups before the Mafia? Is it that this culture of machismo and the accoutrements that come with the Mafia culture are so strong that new recruits feel compelled to continue the tradition, given its social and psychological rewards? Do the economic rewards continue to outweigh the liabilities of being executed or incarcerated?
Second, Raab addresses the durability, viability, and flexibility of the Mafia.
"Concrete evidence of the longevity of the New York and Northeast families was confirmed in the summer of 2016. FBI and local agents bagged forty-six alleged 'goodfellas' on a litany of traditional rackets and modern digital crimes, ranging from loansharking and extortion to internet gambling, credit card skimming and medical insurance frauds…" (p. xiv).
"For more meaningful pointers, on the resurgent powers of authentic borgatos, America's law enforcement planners might well look to the Mafia's birthplace—Sicily…. using public relations finesse, Sicily's modern godfathers adopted low profile policies known as Pax Mafiosi, Mafia Peace. ..the new bosses avoid violent confrontation…and prefer invisibility…. Sicily also beckons as a conscription area for the American Mafia's depleted battalions" (pp. 702-703).
Clearly, Raab addresses what some have denied: the relationship of the American Mafia to the Sicilian Mafia. Of course, the dispute over whether Mafia exists as an organization or mafia exists as a way of life is not an issue with which Raab seems to be bothered. Nonetheless, this again opens up new avenues for researchers who are interested in the concept of transnational crime. What empirical evidence can be garnered that supports the notion that American law enforcement will see an increase in transnational organized crime that has its epicenter in Sicily? And, will this affect the "family values" of the American Mafia, as Raab seems to suggest (i.e. generic family members being likely targets for execution in the event of a defection within the Mafia family.).
Third, the author addresses the evolution of other criminal groups and how they might affect the Mafia." The emergence in New York and other urban regions of vicious Russian, Asian, Albanian, and Latin American gangs may further deflect local and federal law enforcement attention from the Mafia…it is conceivable that they could benefit through alliances with new ethnic hoodlums…" (p. 706). Naturally, such a hypothesis bears further investigation insofar as cultural dis-similarities may in fact preclude any such integration.
Since the Mafia seems to be the principal purveyors of illegal gambling, loansharking, and protection rackets (pp. 693-697), whether or not these other gangs, that lack both the longevity, free-standing structure, and political inroads that the Mafia has acquired over a number of decades, represent viable partners remains to be seen? It is highly doubtful that the Mafia will be willing to accede its territorial rights to these newer gangs.
Fourth, Raab addresses the often-debated role of the so-called Commission. Some would argue that it, the Commission, does not, nor ever did, actually exist. Others contend, as does Raab: "For more than seventy years, America's Mafiosi relied upon the Commission…to establish national crime policies and omerta. The commission also resolved territorial and financial disputes between families" (p. xv). "New York gangs, which dominated the Commission, no longer conduct formal sessions with representatives attending from each family, and in the past delegates from other regions" (p. xv).
If the role of the Commission has been drastically altered or weakened as Raab suggests, then how are inter-family disputes among the 26 families (if all 26 still exist?) settled? How has this affected the recruitment and induction of new members? And with the diminished role of the Commission, are we likely to see more violence; more defections by Mafia members; and the "twilight of the Godfathers?"
Lastly, Raab points out that other than New York, the so-called "crown-jewel" of the Mafia, "…many Mafia gangs, including long entrenched ones in Detroit, Cleveland, New Orleans, Kansas City, Milwaukee, Tampa, and Southern California had virtually been eliminated or weakened to the level of a handful of elderly 'has-beens'. Remarkably, the Mafia's venerable and strongest families survived in New York, Chicago, Philadelphia, and other pockets in the Northeast" (p. xiii). If this prognosis is accurate, then clearly the Mafia is no longer the threat it once was and law enforcement has appropriately shifted its focus and resources to the new threat: terrorism. Nonetheless, Raab seems to hedge his bet, claiming that the resurgence of the Mafia is likely, if this new public relations campaign of Pax Mafiosi (Make Peace) becomes the central unifying theme among the remaining Mafia families in America.
For those readers, researchers, and students of organized crime, Raab's book provides mountains of research material as well as any number of researchable hypotheses that can be pursued by a new wave of organized crime enthusiasts and researchers. For example, it would be interesting to study whether the gambling and loansharking markets that Raab contends are the "bread-and-butter" of the Mafia have been reshaped by the changing dynamics of the Mafia in New York and other cities where the Mafia played a critical role?
Gambling and loansharking have certainly not disappeared; and may be even more viable and lucrative today. Surely, both Dwight Smith's and Peter Reuter's analytical frameworks could prove valuable templates for this kind of inquiry. Five Families provides both a context and a framework for such research.
Frederick T. Martens, Former President of IASOC; Former Adjunct Faculty, The College of New Jersey and Penn State University. President, Complex Litigation Sciences, LLC.