JUVENILE DELINQUENCY AND THE LIMITS OF WESTERN INFLUENCE, 1850-2000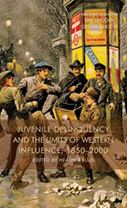 Editor: Heather Ellis
Publisher: New York, NY: Palgrave Macmillan, 2014. 280p.
Reviewer: William S. Bush | January 2017
In its half century of existence, the historical study of juvenile delinquency and juvenile justice has focused overwhelmingly on the United States and Western Europe. Even research in non-Western settings often has taken the Western experience as a frame of reference. These observations form the main point of departure for this collection of eleven essays offering case studies across four continents from the late nineteenth century to the present. The editor argues that scientific, cultural, and legal ideas about juvenile delinquency did not circulate only from West to East, as implied in much of the existing historical literature. Echoing the "transnational turn" in the discipline of history, the volume instead contends that ideas flowed in multiple directions. The contributors, who are primarily historians, explore how local and regional populations often "adopted, adapted, or rejected" Western ideas about juvenile delinquency according to local traditions and circumstances. Similarly, the contributors challenge the notion that the concept of juvenile delinquency emerged entirely in settings that were urban, technologically advancing and politically modernizing.
Illustrating these broader themes are five sections on: colonial contexts, transnational migration, World Wars I and II, the Cold War, and the postwar nation-state. Individual chapters offer a range of methodological approaches that will appeal to scholars from a range of disciplines. For example, legal scholars will be drawn to Amrit Dev Kaur Khalsa's study of the Dutch Indies, in which the establishment of a separate justice system for juveniles between the 1890s and 1920s is portrayed as contested terrain between European-educated judges, indigenous parents, and the youths themselves. By contrast, the chapter on Turkey reports that "the modern conception of childhood" was resisted until a separate Children's Court was inaugurated in 1979, and even then legal protections for juvenile offenders were implemented only half-heartedly until 2005.
Both social scientists and education scholars will find interest in case studies of delinquency prevention initiatives launched outside formal justice systems. Successive chapters describe how: educational reformers developed "advice literature" in colonial British India and the Dutch Indies; vocational schools for at-risk youth were established in the Jewish community of 18th and 19th century Budapest; and state-sponsored leisure programs aimed at shaping the "political character" of youth were launched in the post-Stalin era of the Soviet Union.
Some of the national studies draw explicit contrasts with Western conceptions of childhood and juvenile delinquency. An example is Barak Kushner's provocative study of delinquency in imperial Japan which suggests that aggressive male youths increasingly acted with implicit state sanction, particularly as Japan expanded its own hegemony in East Asia during the early twentieth century.
In sum, this volume makes a valuable contribution at a time when scholars and policymakers grapple with making sense of youth crises in an increasingly interconnected world.
William S. Bush, Associate Professor of History, Texas A&M University-San Antonio